What does Domestic Violence mean?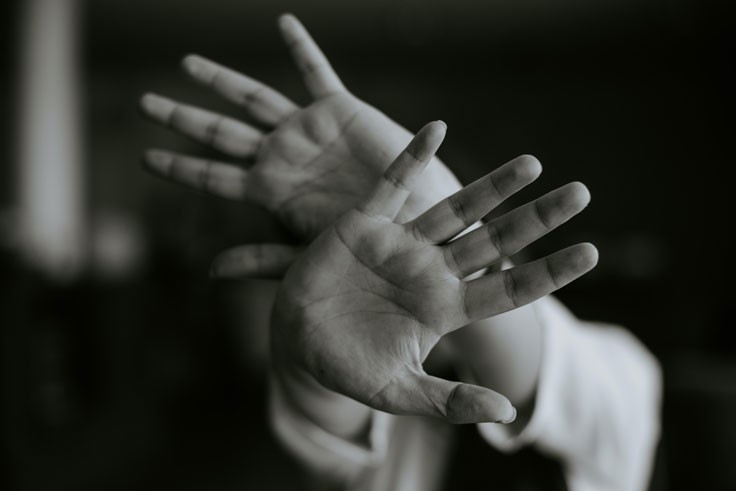 What does Domestic Violence mean: violent or aggressive behavior within the home, typically involving the violent abuse of spouse or partner. This is the definition from Oxford Languages. But what does it mean to someone in the midst of the storm?
To a child, that could mean the way a mommy and daddy love each other; to a neighbor, it could just be the way they fight. To family, it is always how those two act. Are these some of the things you thought when you witnessed a couple fighting? Or did you see someone get their hair yanked as you were in your car at a stop light and thought, wow, wonder what she did?
4,497 incidents of domestic violence calls occurred in San Joaquin County in 2019. Over half of the incidents of domestic violence are never reported. Is it shame, blame, guilt, or just fear that keeps a victim from reporting?
Domestic Violence is the first link in a sequence of life events that begin what is known as the generational cycle of violence. The cycle begins with the trauma a child experiences when exposed to violence, crime, or abuse in their homes, schools, and communities. Over the course of their lifetimes, 57 percent of the children who had witnessed intimate partner violence were also direct victims of child abuse. This is the beginning of the cycle with untrusting, unsecure, angry and emotionally detached relationships. Ill equipped to manage their feelings and depression, they use violence or accept violence as a coping mechanism. These first exposures to violence increase overlapping issues such as depression, anxiety, post-traumatic stress disorder, isolation, shame fear, guilt, and low self-esteem.
These exposures to violence place children at risk for physical injury and are more likely than others to have poor overall health, have illnesses that require medical attention, attempt suicide or are involved in self-injury Evidence of exposure to child abuse or neglect has profound effects on brain development and cognition, causing academic difficulties and failures, placing these children at high risk to drop out of school.
Behavioral problems, substance abuse or dependency, teen pregnancy, aggression, conduct disorder, delinquency, and violence to include "dating violence", high rates of victimization are seen in the children who have exposures. Approximately seventy percent of youth in residential placement had some type of past traumatic experience. These offenses were likely to lead to poly-victimization. These children are more likely to go on to become Juvenile offenders (Nofzinger & Kurtz, 2005).
Studies have shown that exposures to multiple kinds of violence predicts negative outcomes beyond what they experienced. These outcomes are psychological distress, adjustment in adult relationships, school grades, physical health, teen pregnancy, delinquency, bullying, self-harm, teed dating violence perpetration, and adult intimate violence victimization and perpetration. These children go on to become the next link to the generational cycle of violence we are seeing in our community today.
Unfortunately, 1 in 15 children across America will experience daily violence in their home. Here in San Joaquin county the rate is higher with 1 in 10. This is completely preventable. We can begin to break this cycle, one step at a time. It begins with you!
1 in 3 women and 1 in 4 men will experience Domestic Violence over their lifetime. These are startling statistics that continue to grow with each year. COVID-19has caused an increased sensitivity with the need to socially distance. It has made those that hide their abuse even easier to stay in the shadows, their abusers are locked behind the closed doors with them. No escape. No way to ask for help, no one reaching out to lend a hand from the pain. What or How do we stop this? You, your friends, our community are the end to this cycle that has raged through the generations in our community.
What can you do? Do you make that call? Do you reach out to the abused?
Becoming aware is the first step, there is hope to end this cycle, and it starts with providing critical life changing services that will provide stepping stones to those that have been abused to begin to rebuild their lives with safe coping mechanisms, learning how to have healthy safe relationships, building boundaries, and self-esteem.
YOU Can make a difference!
Find out how you can get help or help for someone else.
Volunteer: become an advocate and help us educate the community on the cycle of violence and the need to change.
Donate: Help us to continue to provide these life changing services that continue to make a difference in thousands of lives each year.
---
References:
https://www.un.org/en/coronavirus/what-is-domestic-abuse
https://www.ncsl.org/research/human-services/domestic-violence-domestic-abuse-definitions-and-relationships.aspx
---
Stay Informed
When you subscribe to the blog, we will send you an e-mail when there are new updates on the site so you wouldn't miss them.
Comments
No comments made yet. Be the first to submit a comment